THE 4 MOST
POPULAR TYPES
OF YOGA
The 4 most popular Types of Yoga: A simple Guide
Depending on where you practice yoga, what you do on the mat can be very different. Calm and relaxing to up-tempo and dynamic, fitness-focused to spiritual, there are a variety of practices that have evolved from traditional yoga as it has spread across the globe. This guide gives you an overview of the most common types of yoga and compares their differences and benefits.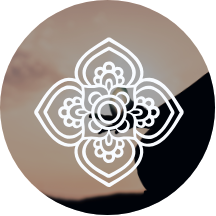 STRENGTHENS AND RELAXES THE BODY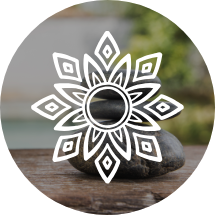 CALMS THE MIND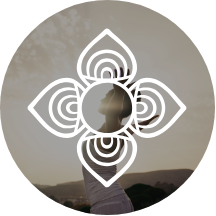 HOLISTIC APPROACH
ANCIENT PRACTICE
The term Hatha Yoga refers to two different things. On the one hand, it's an umbrella term for most asana-based (meaning postures-based) types of yoga people practice today. Its principles are found in Vinyasa, Yin or Ashtanga Yoga, for example. But Hatha Yoga has also grown from its traditional roots to become a style on its own.
When you break it down, "Ha" means sun and "Tha" means moon: "Yoga" can also be translated to mean union. According to this translation, Hatha Yoga is the practice of unifying and balancing the dual energies that are present in all of us (sun and moon, masculine and feminine, active and passive, yang and yin), which ultimately leads to enlightenment. The most important Hatha Yoga scripture is the Hatha Yoga Pradipika, a set of instructions from the 14th century. When you go to a Hatha Yoga class, you can expect a slow but intense practice that incorporates postures (asanas), breathing exercises (Pranayama), purification practices (Kriyas) and meditative elements.
BREATHWORK, PURIFICATION TECHNIQUES AND MEDITATION
FOUNDATIONAL TEXT: HATHA YOGA PRADIPIKA
TRADITIONAL APPROACH
SLOW BUT INTENSE PHYSICAL PRACTICE
need to add products, there was an error
- HOT YOGA -
Hot Yoga, or Bikram Yoga, is practiced in rooms that are heated to between 35 and 42°C in order to really make the yogis sweat. The idea is to create more flexibility in the muscles and joints, increase circulation and accelerate the detoxifying effects the postures can have on the body.
Bikram Yoga is named after its founder Bikram Chodhury who originally introduced it to the Western world. Bikram Yoga has a fixed sequence of 26 poses. The term Hot Yoga is more general, and refers to all the different types of yoga practiced in heated rooms. These are, for the most part, variations on the Bikram sequence or gentle flow sequences. If you go to a hot yoga class, be prepared for a challenging and sweaty practice. Don't forget to bring a water bottle and a non-slip mat or mat cover.
PHYSICALLY CHALLENGING AND SWEATY
ROOM TEMPERATURES: 25-43°C
BIKRAM YOGA: FIXED SEQUENCE OF POSES
LESS EMPHASIS ON SPIRITUAL ELEMENTS

- VINYASA YOGA -
Vinyasa Yoga, or Flow Yoga, describes yoga when it consists of a dynamic sequence of poses connected to the breath. Sun salutations are the most well-known kind of vinyasa sequence. Each inhale and exhale goes along with a specific movement. That doesn't mean that you won't stay in an asana longer than one breath in a Vinyasa class, but there will be more emphasis on the sequence itself and transitions between each asana.
Since Vinyasa Yoga is a fairly broad term, the intensity and focus of a practice can vary from a gentle flow with Hatha elements to fitness-inspired with a faster pace. Ashtanga Yoga as taught by Sri K. Patthabi Jois is the classic Vinyasa practice from which most Vinyasa styles that exist today are derived.
CONSCIOUS CONNECTION BETWEEN BREATH AND MOVEMEN
ALSO CALLED FLOW YOGA
DYNAMIC AND SWEATY
TAUGHT BOTH WITH AND WITHOUT SPIRITUAL ASPECTS
- KUNDALINI YOGA -
In Western cultures, Kundalini Yoga is usually associated with the Kundalini Yoga Tradition as taught by Yogi Bhajan. It was Bhajan, an Indian Kundalini master, who brought this previously secret practice to the West: it spread throughout the USA first, and other countries later. The term Kundalini in yoga philosophy refers to the energy inside of us and is mostly illustrated as a snake sleeping at the base of a spine. The goal of all practices is to focus and direct this energy upwards in our bodies so we can achieve enlightenment, or union. Therefore, Kundalini Yoga can also be called the yoga of energy.
In Kundalini Yoga classes as taught by Yogi Bhajan, certain defined sequences (Kriyas) of asanas, mantras, and breathing exercises are practiced in a specific order. They're designed to help the practitioner develop an open heart, spiritual wealth or purification. Kundalini yogis traditionally wear white clothes and a turban.
SPIRITUAL ESOTERIC PRACTICE
FOCUS ON DIRECTING ENERGIES
CHALLENGING ON A PHYSICAL AND MENTAL LEVEL
YOGI BHAJAN: NOTABLE FIGURE IN THE WEST
need to add products, there was an error